14 April 2015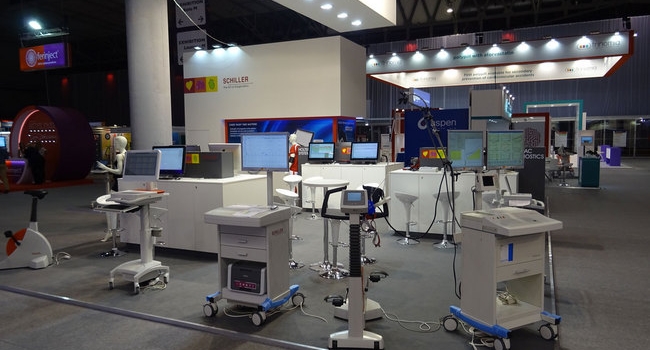 ExCel London Exhibition & Convention Centre
Dates: 29th Aug – 2nd Sept 2015
Visit SCHILLER at stand A300ESC
CARDIOVIT CS-200 Excellence: Equipped with the latest technology & superior diagnostic tools, from 16-lead acquisition to HyperQ Analysis, the CS-200 Excellence provides high performance with decision-making support for the busy Hospital environment. Our Dynamic Protocol algorithm automatically recommends the ideal protocol for the patient with wizard-style tutorial and step by step instruction. Ergonomic design, integrated printer, dedicated keys, writing surface and ample storage space.
CARDIOVIT CS-200 Touch: With small footprint the CARDIOVIT CS-200 Touch fits comfortably even in the smallest space. Lightweight design easily moved from room to room. Height-adjustable cart adapts to your optimal working position. Medical-grade PC panel, easy-to-clean with antibacterial housing, touch-screen user interface, simplifies operation.
HyperQ: Sophisticated algorithm, ground breaking HyperQ TM technology provides a unique solution for detection of Coronary Artery Disease in both stress and resting ECGs. Scientifically and clinical proven analysis of high-frequency QRS signals, significantly improves accuracy and effectiveness of routine tests. Extracting previously unseen data from standard 12-lead ECG's.
​SCHILLER C.C.A. algorithm: Chest Pain? Time Matters! Immediate and accurate localisation of coronary occlusion with early detection, now integrated in our sophisticated MS range of touch ECG devices. Identifying the site of coronary artery obstruction and size of area threatened, aiding decision making for optimal management of the acute chest pain both inside & outside Hospital.
BR-102 plus PWA: To take Blood Pressure Measurement a step further, our BR-102 the most user-friendly, reliable & accurate 24hr Blood Pressure Monitor is enhanced with an innovative function to determine the presence & severity of Coronary Artery Disease. Both the ESH (European Society of Hypertension) and the ESC (European Society of Cardiology) are convinced of the huge potential of PWA, recommending its use in their guidelines since 2007.
CARDIOVIT AT-10 plus: Combines the basics of electrocardiography with the benefits of the IT world, providing all functions of a high-quality 12-channel electrocardiograph, meeting all requirements of an integrated diagnostic workstation. Laptop design with memory for 350 recordings makes the AT-10plus an extremely flexible tool. The addition of EXEC exercise software and our ERG911plus bicycle ergometer provides a cost effective solution, suitable for testing in sports medicine, cardiology and rehabilitation.
FRED easy, FRED easyLife & FRED easyport AED's with Mulltipulse Biowave® Technology: GENTLE – INTELLIGENT – EFFICIENT. Markets include Public Access, Patients at Risk, General Practice, Hospital Care and Emergency Medical Services.