08 April 2015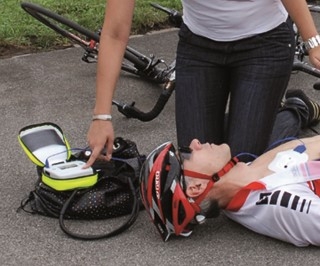 A call for more public defibrillators to be located at major events and facilities.
Mr Fox was competing in a Triathlon ACT when he collapsed came of his bike into marshalls. Fortunately for Mr Fox, there was a St John's Ambulance bicycle paramedic carrying a
SCHILLER FRED easyport® pocket defibrillator only 30 metres away.
Mr Fox had an idiopathic (cause unknown) cardiac arrest. He was revived by the defibrillator and after treatment in hospital, where he had an inplantable defibrillator fitted, is now completing rehabilitation and is back on his bike.
A young, fit and well man, he still does not know what caused the arrest and is still shocked it happened to him. He said his experience shows the benefits of having more public access defibrillators and awareness of their benefits.
"People who know what happened to me are now starting to look at the need for defibrillators in their organisations, which is a good thing,"
There is a need for more public access defibrillators to be available in the community and sporting facilities.
Introducing such devices is affordable and simple. "The defibrillator used was ight, easy to use and requires no medical training to use.
An immediate response to a cardiac arrest with CPR and a defibrillator triples a person's chances of survival.